30 MEI sd. 1 JUNI 2013 WEDDING CAKE DECORATION COURSE bersama Yudi Harijono & Mario Wibowo (selebrity chef)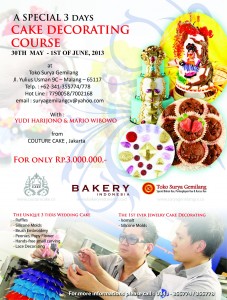 A special and Unique " 3 days  Decorating Course" with Yudi Harijono & Mario Wibowo 25 sd. 27 April 2013.
" The 1st ever 3 tiers Jewellery Cake"
– isomalt
– silicone Molds
" The 3 tiers Unique Wedding CAKE"
– Ruffles
– Silicone Molds
– Brush embroidery
– Peonies, Poppy Flowers
– Hands-Free "small carving"
– Lace Decorating
only for Rp. 3.000.000,-
+ "TEMARI CAKE" (if there is stil enough time)
for more information, please call 0341-355778/774-7790058
SEATS ARE LIMITED !!!
DAFTAR SEGERA , TEPAT TERBATAS !!!
*) BONUS : Setiap PESERTA dan Hasil Karyanya akan ditampilkan di MAJALAH NASIONAL BAKERY INDONESIA edisi Terbaru 2013 + SERTIFIKAT
*) Tips2 penting akan diajarkan Yudi HARIJONO dengan praktek "HANDS ON", dimana setiap peserta akan mengerjakan sendiri dengan arahan Yudi (spesialis dekorasi  dan dekorasi unik) dan akan diajarkan cara pemakaian cetakan silikon dengan isomalt serta pemakaian warna.
NB :
*) untuk peserta LUAR Kota Malang, akan kami bantu infokan akomadasinya (HOTEL bintang harga promo) yang praktis & hemat sesuai permintaan hub 0341-7790058.
Butuh info lengkap hubungi : 0341-355774/778-7790058